Biotechnology
Maytech team has significant experience in designing and performing of works in biotechnology, especially in yeast production as one of the most demanding technological process.
We would point out Alitech Company Serbia (former Alitech Fermin) as our most important client in the field of biotechnology, which engaged us for the designing and performance of the following:
automatisation and repair of fermentation
central CIP
modernization of installations for storage and transfer of yeast milk in cream lager
new plant for yeast extract production
As the crowning work of our engagement and trust in our competence, we were entrusted entire engineering for construction of a new plant for yeast extract production. The task our engineers team faced included transfer and adaptation of the plant for yeast extract production from Soloturno (Switzerland) to the existing plant in Senta, in accordance with new technological demands. The fact there were no complaints on the functioning of this plant and our long-standing presence in the aforesaid company are acknowledgement of our work and serious approach to any task introduced by investors.
Another project we were engaged in was construction and mounting of a dryer for dry bakers yeast in Vrenje factory in Belgrade.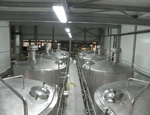 Alltech Serbia - Senta
/ procesne instalacije /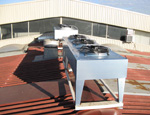 Alltech Serbia - Senta
/ rashladne instalacije /